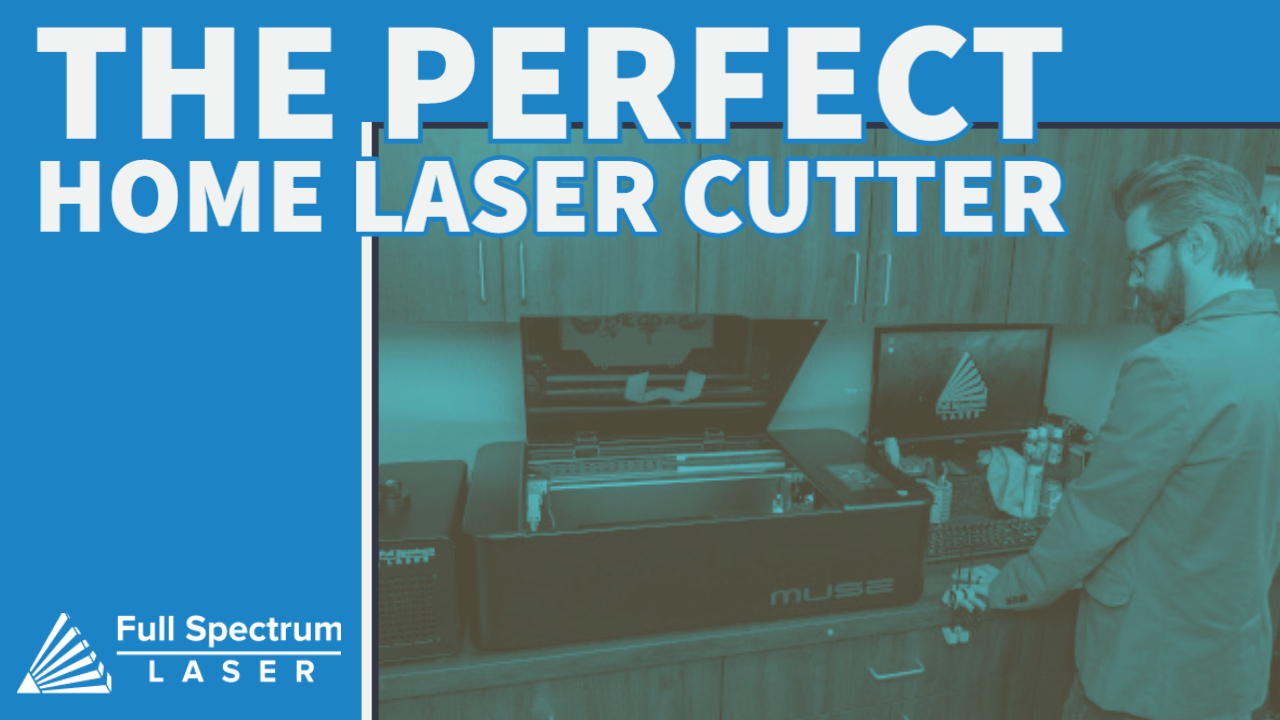 Finding the Perfect Home Laser Cutter
When it comes time to purchase your own home laser cutter, there are many options out there. While you browse many different options that are out there, it will be very easy to become frustrated or intimidated. You'll see many terms like CO2 Laser, Diode Laser, Fiber Laser, Galvo Laser, and Gantry Laser just to name a few. Don't worry, if you are reading this article, then you have come to the right place. You'll need to figure out where it will be best to purchase your laser from, and this article will help.
For more specific details, you can check out the article "What to know before buying a laser cutter and engraver" which goes more in depth about which type of laser will fit your needs.
Finding the Perfect Home Laser Cutter: Price
The first thing that you'll notice when perusing through the many options on the internet during your hunt for finding the perfect home laser cutter will be the prices. The variance in pricing will be drastic, and you'll be more confused than ever. While your budget may be the first thing on your mind, look beyond the price tag before adding any laser cutter to your shopping cart. There are many factors to consider before getting to that point, and a bit of patience can benefit your search far more than quickly pulling the trigger on the "limited time" deals that you may find. Purchasing a laser cutting machine is an investment. Research and compare key performance, quality and other factors, along with pricing to get to the smart choice for you and your needs.
Finding the Perfect Home Laser Cutter: Laser Type
Before you begin, do your research between the different types of laser cutters and engravers that are currently available. Keep in mind, different types of laser machines can have very different purposes and capabilities.
In your initial search you'll see many types of lasers including UV lasers and Fiber lasers. UV and Fiber lasers have more specialized applications and are less commonly used as a versatile home laser cutter. The two more common types of laser cutters for home that you'll see will be CO2 laser cutters and Diode laser cutters. This is one of those key moments where you should look beyond just pricing since there are some drastic differences between these two types of common lasers, even though they can handle similar applications. CO2 home laser cutters tend to cost more that diode lasers but the difference in speed and output quality can far outweigh the price differences.
There are also differences in pricing between CO2 lasers themselves. Make sure when you consider those cheaper CO2 lasers that you look at the quality of components and support. Some of those less expensive machines could sacrifice speed and/or quality which can give you more issues in the long run. Time is valuable. It's been said multiple times, and we'll continue to say it because it is very important: always consider production times and factor any down time for quality issues or challenges.
Finding the Perfect Home Laser Cutter: Support, Maintenance, and Repairs
The cheapest options out there, regardless of which type of laser you are going with, are unbranded laser systems and tend to have minimal support options (if they have any at all). These cheaper, unbranded options work for laser enthusiasts who understand the fine intricacies of laser systems and tend to have a lot of experience with these machines. Even then, many of these enthusiasts will avoid these cheaper systems for their long term laser investment.
Take a look at the brands of the home laser cutters at which you are considering, and even go as far as looking up where they are located. Even check out their office hours. These systems may initially cost more than one of the unbranded options, but chances are you will have less issues with it, and when you do have issues, you'll have a support system that is available to assist you.
If you purchase an unbranded laser system, you may end up spending just as much if not more as you would have on the branded laser system through its lifespan. Instead of getting warranties on the entire system, you may get multiple warranties on each different component. And when it comes time to replace parts, you may end up spending more trying to diagnose and troubleshoot than you would have with the branded home laser cutter. A smart investment is to consider branded home laser cutters with a support structure already in place. They will be able to assist you through these situations and replacements, saving you both time and money in the process. Again, unless you are an laser expert or a knowledgeable enthusiast, the unbranded laser systems can potentially take a larger toll on your wallet throughout the duration of its working life.
Finding the Perfect Home Laser Cutter: An Investment
While this may be an abridged version of what you need to look into before buying that perfect home laser cutter, it gives an idea of the important things you need to consider. So while it's exciting to look and you'll be very tempted to jump on the first "great deal" that you see, it will be far more beneficial take a step back, and look beyond the initial purchase price and instead treat it as an investment.
It can definitely be helpful when you look for laser companies to give them a call. This will give you an idea of how the support structure will work, what kind of offers are available and get you into the best price points. Things such as phone support and easy serviceability go a very long way.
Finding the Perfect Home Laser Cutter: Muse

The Muse series laser systems start with the Core system and work their way up into much larger systems. They are great for beginners and experts alike. You have the ability to learn and grow with these systems, and if you expand your home laser cutter into a money-making business opportunity, then you can grow into the larger Muse Series or P-Series laser systems, taking all the projects and knowledge you attained with you.
Full Spectrum Laser has a support structure in place that will help reduce your down time during repairs and maintenance as well as assist with any other issues you may encounter. Whether you are just learning and need help, or if you run into a problem and your machine needs repairs, there are technicians ready and available to help you with your home laser cutter via phone, email or chat, and make sure you get it taken care of as quickly and efficiently as possible. That way you can spend more time working on your projects, and less time worrying about your laser.
Full Spectrum Laser is a leader in easy to use, highly versatile laser cutting and laser engraving machines. Our systems range in size from desktop units and high-volume machines through industrial-grade production equipment. Our machines are running all over the world: from grade schools to National Labs, garage startups and many Fortune 500 companies. Contact us today to learn more.