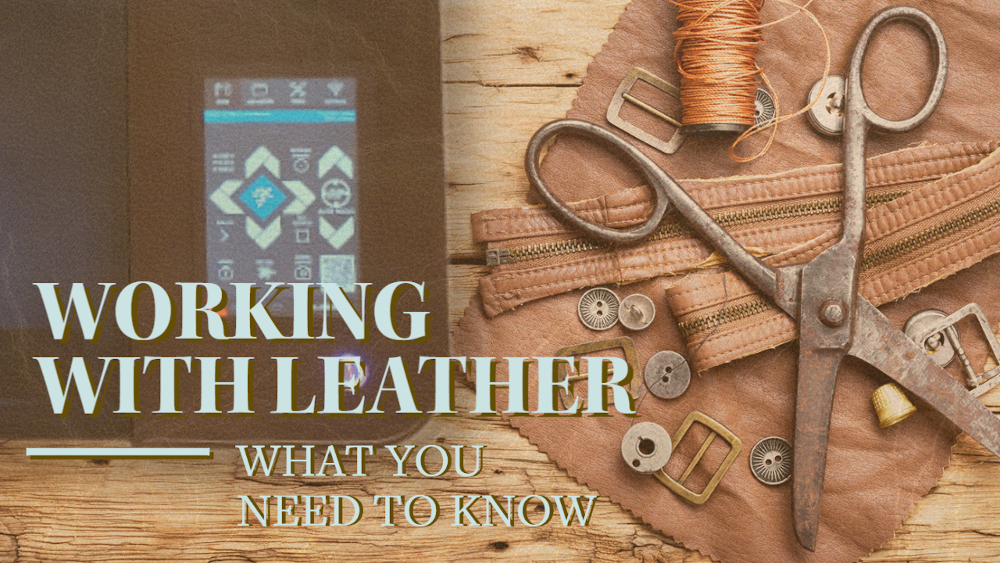 There are so many different types of materials that you can use with your laser cutter and engraver. Most people know about the basics, such as wood and acrylic, but when it comes to going beyond those options and engraving other materials like leather, it can be daunting to figure out where to begin. From working with a UV Laser or Fiber Laser to a CO2 Laser engraver, the following information will help you when it comes to leather laser engraving and cutting.
Working with a Leather Laser Engraver: What you need to know
Tanning is a process in which animal hides are transformed into leather, which is tough and resistant to the elements and great for clothing. Cutting, engraving, and marking quality leather can be done very effectively on a laser cutter. In fact, leather laser engraving and cutting works very well on different types of laser technologies: CO2 Lasers, Fiber Lasers, and UV Lasers.
Leather Properties
High quality leather is a very strong and flexible material making it idea for creative laser engraving. Below are some of the most common properties of leather:
Origins:
Leather is derived from the hide of animals, particularly cattle, though other animal hides can be used including deer, sheep, pigs and even some reptiles and marine life (such as eels).
High Tensile Strength:
leather is very difficult to tear or puncture.
Elastic & Plastic Qualities:
Leather can stretch and retain shape.
Weather Resistance:
Due to the tanning and surface finishing processes, leather is easy to clean and both water and fire resistant. Please note that even though it may have a certain level of fire resistance, it is definitely not fire-proof and it can catch fire in the laser. So always make sure you take proper safety precautions.
Grain:
Leather has a natural grain and surface. Typical grains include full grain, top grain, corrected grain and split (a process that produces suede).
Finishes:
Leather can also be finished or unprocessed. Finishes include aniline, semi-aniline and pigmented leather.
Common Types of Leather for Laser Engraving
Cowhide:
Widely used for clothing, furniture and leather goods. Cowhide is durable, easy to care for and widely available in different colors and thickness.
Lambskin:
Soft and velvety, lightweight.
Pigskin:
Lightweight and silky, with distinctive natural patterns.
Deerskin:
Rare, unless you are a hunter.
Chamois ("Shammy"):
Made from sheepskin, this material is thin, soft and cloth-like.
Suede (includes Napped):
Processed to create a thin, soft fibrous surface, popular with jackets and other clothing. Includes buffed top grain leathers, such as Nubuck.
Leather not recommended to be used in your Laser
Synthetic Leather (vinyl):
Some synthetic leathers contain materials that will produce harmful gasses that can affect your health and damage your machine. For safety reasons, it is best to stay away from synthetic leathers. Though, there are some synthetic leathers that you can purchase that are specifically made for use in a laser which will be safe to use.
Eel Leather:
While eel leather can work just fine in your laser engraving machine, it will produce a very potent smell that will take a very long time to dissipate. So you can safely use this material without worry that it will harm you or your laser, but because of the intense smell, it is highly recommended to stay away from it.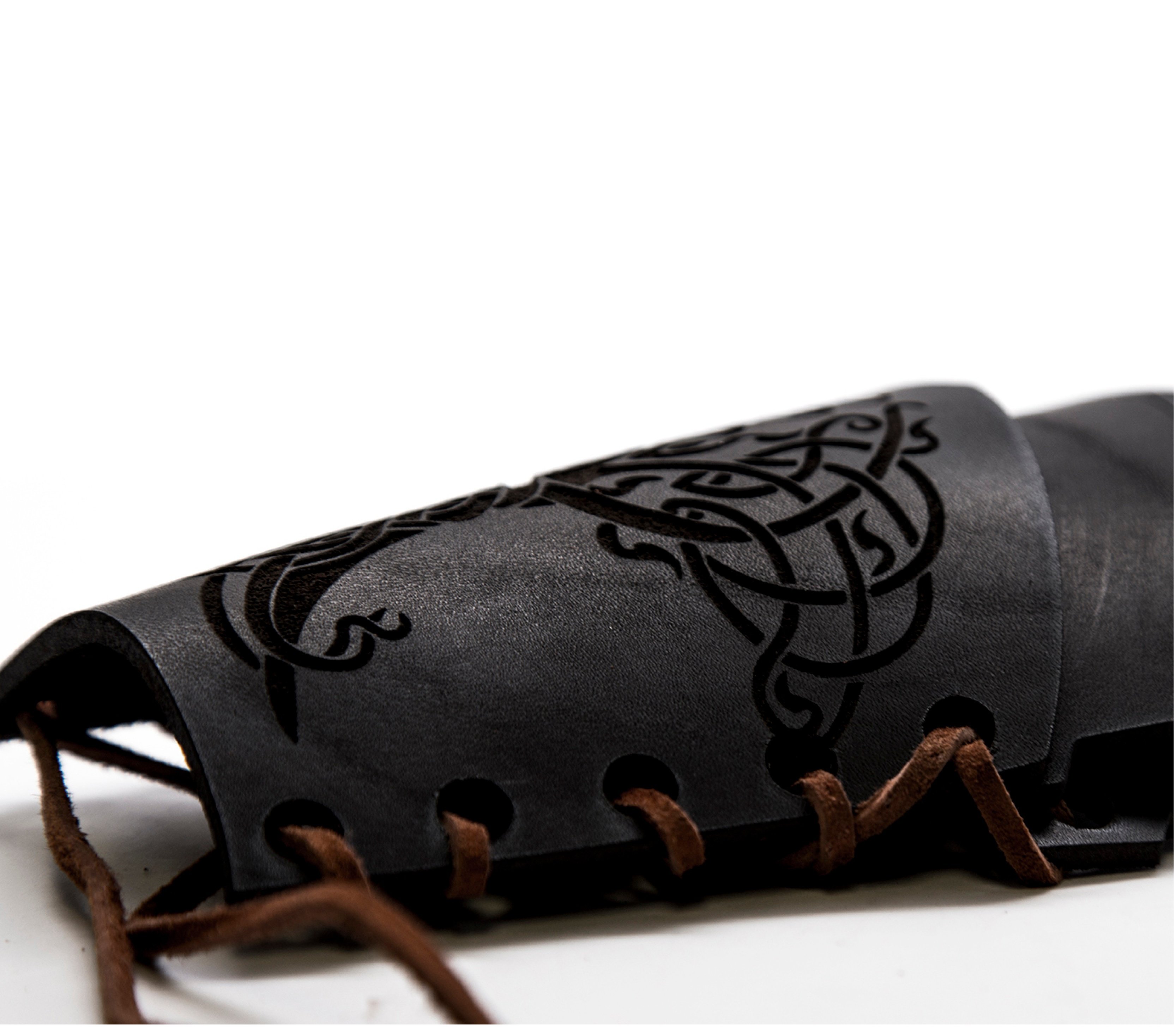 Leather Applications and Ideas
Here is a list of some of the more common applications for which leather can be used in your laser engraver and cutter. You don't have to limit yourself to these ideas, and coming up with new applications or ideas is definitely encouraged.
Wallets:
Cut your pattern and engrave unique designs to create unlimited styles.
Scrapbook and Notebook Covers:
Add a durable cover with a personal engraving.
Jewelry:
Create original designs that can be easily replicated and produced (bracelets, necklaces, etc).
Patches:
Make stunning leather patches that can be attached to bags, jackets, hats, and more.
Costumes:
Rule the cosplay scene or create the perfect Halloween costume.
Armor Replicas:
Create leather bracers, archery gear, movie props and more.
Purses:
Customize the design and add engraving for a one-of-a-kind style.
Belts and Collars:
Belts cut and engrave nicely for a complete line of styles as well as patterns that work well for both you and your animal companion.
Shoes:
Like belts and purses, shoes offer laser users new and endless design as well as personalization options.
Arts and Crafts:
Custom leather creations make excellent decorations and gifts.
Leather Gear Enhancements:
There are thousands of leather products (jackets, shoes, handbags, etc.) that can be customized, personalized and enhanced with engraving.
Please note, that if you are working with a pre-existing item such as a bag or shoes, make sure you verify that they are actually made from leather instead of synthetic materials that produce fumes that can be harmful to your health, and can be damaging to your laser.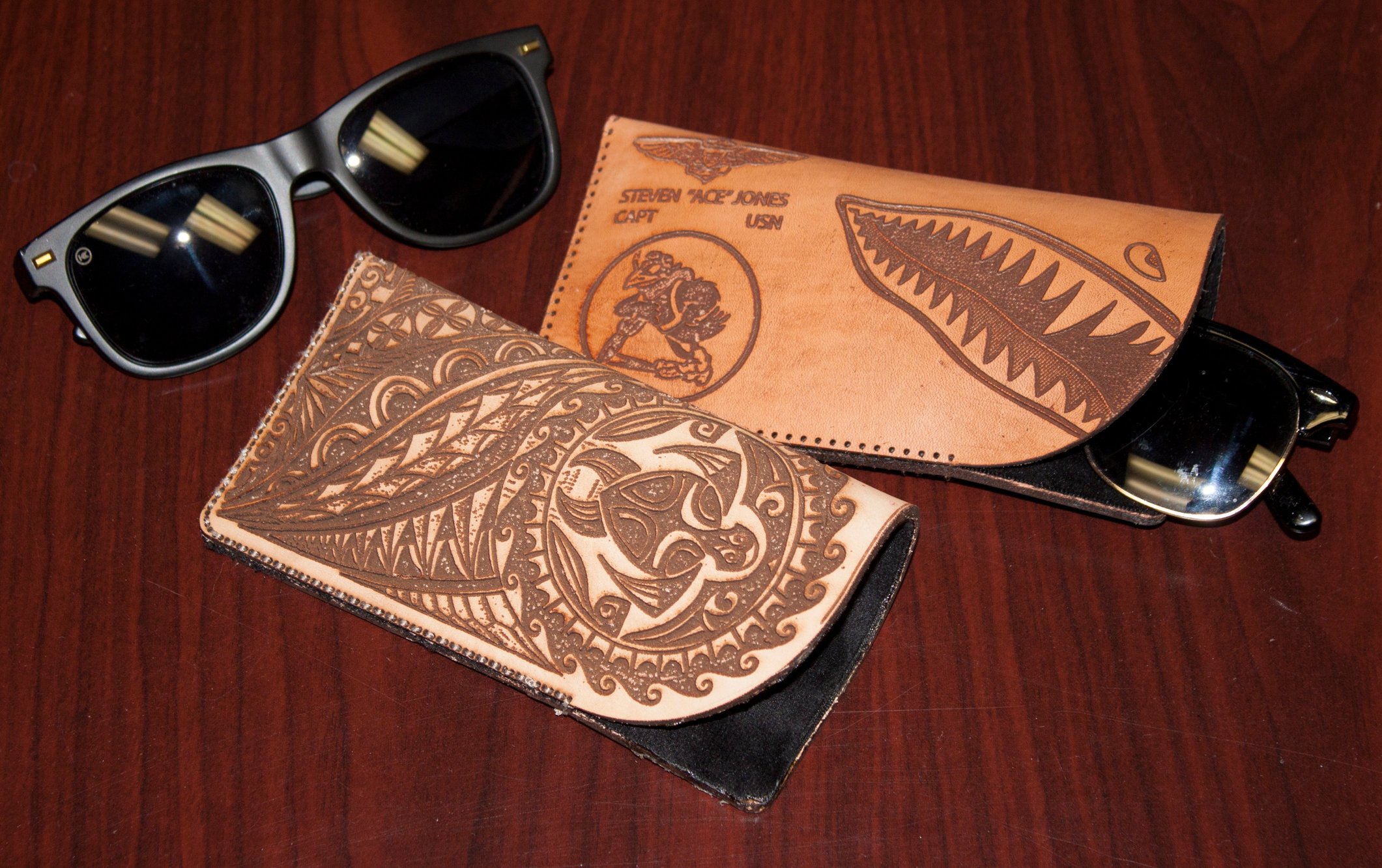 Keep these things in mind
Low Contrast:
Leather's natural qualities don't create great contrast.
Fibrous:
Leather can be very fibrous, which can cause difficulty when attempting a clean cut on thin material. For leather, thicker, high-quality material is suggested for its denser fiber construction. A Fiber or UV Laser will be more useful than a CO2 Laser when it comes to cutting and engraving finer details.
Material Thickness:
For leather, thicker, high-quality material is suggested for its denser fiber construction.
Watch for Flames:
Safety should always be a priority when working with a laser cutter and engraver machine. Leather also can create flames, so monitor your leather cutting closely. Always have a fire extinguisher within reach.
Temporary Odor:
Since most leather comes from animal hides, they will produce an unpleasant, but harmless, odor. This smell will dissipate. Be aware of this if you are operating in a storefront or somewhere with higher volume of people such as a maker space or school.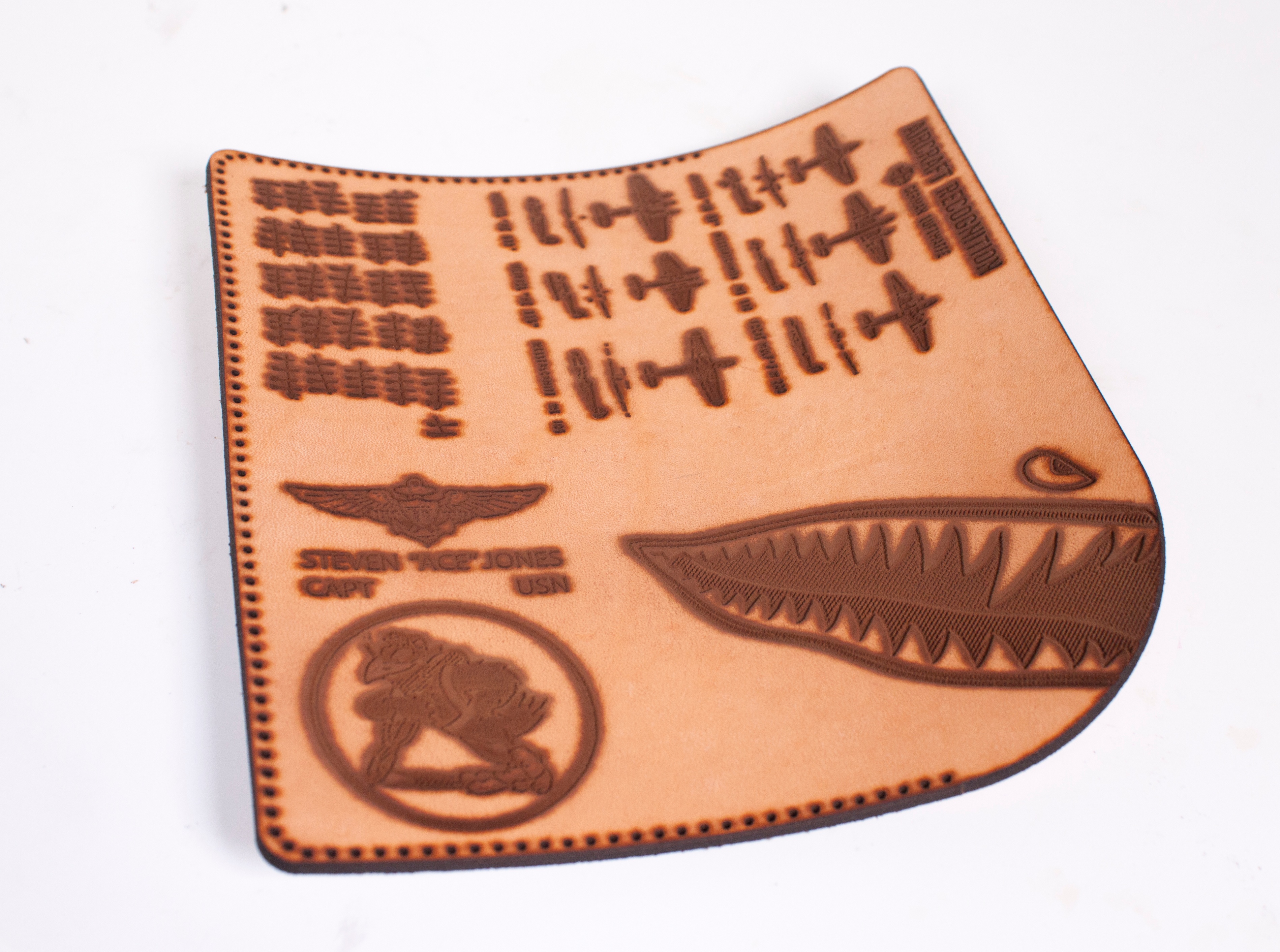 General Approach
Thick, good quality leather will work best for both cutting and engraving. If the leather has a fibrous side and a buffed side, place into the laser cutter with the buffed side up. This will keep the visible surface as clean as possible and reduce chances of the smoke and flashback from marking or staining the surface.
Cutting Leather
Thick, dense leather cuts very well. Thinner material, particularly suede or leather with exposed top fibers tends to catch fire under a laser. Watch your settings and monitor your cutting at all times. If you want to cut thinner leather more frequently, then the Fiber or UV lasers will be the better option for you.
Marking and Engraving Leather
Like with fabric, rastering leather can weaken the material. This is especially true for pigmented leather. Deep engravings on thick leather work best. Also note that photo engraving is not going to show any contrast. For example, rastering an eagle on a motorcycle jacket will mark as the same color and be nearly invisible. If you are going to be engraving and marking on leather more often than you will be cutting it, then a UV laser will be the better choice of laser to use for this application.
Leather Finishing Tips
Preserving:
Leather will lose its natural moisture over time with exposure to the elements. There are many commercial oils that are made to preserve leather and retain its sheen and durability.
Stain Protection:
Suede tends to stain, but there are all-weather sprays you can purchase to add a layer of stain resistance.
Laser Settings
Your power, speed and other laser settings are going to vary depending on the leather that you are working with. Even the wattage of your laser and the local environment can affect settings. Because of this, instead of giving arbitrary settings, we recommend doing a materials test. Visit our materials test page for instructions on how to find the best settings for your leather that you are working with. Make sure you download the log and record your findings for use in future projects.
For more ideas with leather and how to use it in the laser, check out Jimmy Diresta, one of Full Spectrum Laser's Master Makers. He has a wide variety of leather projects that he has worked on with his PS48 and his intuitive designs push the envelope on what you can do with leather laser engraving.
If you have any questions, or if you are unsure about what to do with your leather, check out and join the Full Spectrum Laser Community Forum on Facebook. This is a place where users get together and share projects and help one another with troubleshooting. If you share your creations, we would love to see them. Just make sure you use the tag #MadeWithFSL on both Facebook and Instagram so we can be notified when you post your projects.
Full Spectrum Laser is a leader in laser cutting and laser engraving systems. Our systems range in size from desktop units and high-volume machines through industrial-grade production equipment. Our machines are running all over the world: from grade schools to National Labs, garage startups and many Fortune 500 companies. Contact us today to learn more.